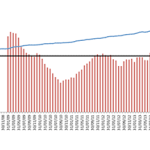 "Sell in May and go away"
The time tested adage of "sell in May and go away" could yet prove appropriate as both domestic and major global stock markets rocketed to all time highs. One notable exception was the Eurozone where economies are only now showing signs of emerging from a double dip recession and company earnings are slowly improving from a very low base.
Continued quantitative easing, manifesting itself in surplus liquidity in the hands of investors constantly seeking yield pick-up, remains a major factor driving investment markets. The levels to which many of these markets have now risen
is beginning to seriously question how one can justify current share valuations. Despite weak growth, the U.S. economy contracted 1.1% in quarter one attributed mainly to inclement weather conditions, the S&P 500 reached all time highs during the month breaching the 1900 level to close at 1923.57 up some 2.1% for the month. The Dow Jones too experienced a new record high with the NASDAQ and the Japanese Nikkei both advancing strongly.