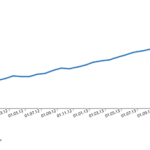 Market Update – March 2014
Risk off, risk on markets
Domestic markets continued to display considerable volatility during March as both global and domestic events impacted on investment sentiment. In the earlier part of the month risk off was largely dictated by indications of a slowdown in Chinese economic growth impacting negatively on South African exports of raw materials. This slowdown has increased speculation in the Chinese financial sector that weakening growth will prompt government policy makers to reconsider their aversion to introducing broad stimulus measures. The Chinese government faces a precarious balancing act of reining in credit expansion that often fuels the risk of loan default, while averting an economic slump that raises the odds of higher unemployment.
---
GTC Fund Performances
The GTC High Equity Funds (previously Aggressive)
have continued to deliver outperformance relative to the inflation adjusted target. Over the past 12 months, the main contributors to performance have been the equity market and offshore allocation. Offshore equity returns remain high in US Dollar terms over the 12 months and local investors received an additional benefit from the weak Rand.
The GTC Moderate Funds have maintained their outperformance record over the inflation adjusted target over all reporting periods. Local and offshore market exposures have been the key component of the superior returns. 2014 has so far seen strong local equity performance (4.78%) with resources and financials contributing to the positive return.
---