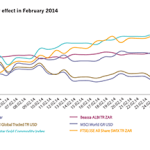 Market Update – February 2014
Budget 2014/2015
Apart from Minister Pravin Gordhan's budget speech, February brought with it interesting and counter intuitive developments both in the local equity and bond markets. The 2014 Budget focuses on interventions that are aimed at placing the economy on a new growth trajectory.
Government's primary objective is to raise real economic growth to between 5 and 6 percent per annum. This higher level of economic growth should boost state revenue
and enable the government to increase expenditure on improving peoples' lives by dealing with the high levels of unemployment, poverty and inequality.
---
The Rand shock absorber effect
U.S.Federal Reserve chair Janet Yellen suggested before the Senate banking committee that the pace of the Fed's economic stimulus plan tapering could be slowed if weakness in the American economy continued. Wall Street rallied as a result with the S&P 500closing at month end record highs. She did also ascribe some evidence of a slow down to the extreme weather pattern that has gripped the Eastern U.S. over recent months. While Yellen's statement is good news for emerging markets such as South Africa going forward, the recent economic news on the local front was not quite as encouraging.
---